In this episode, Jim Roussin and I, breakdown the key fundamentals that drive the work that he does in empowering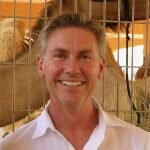 educators to find their best selves. Jim has years of experience consulting for schools around the world. He shares specific strategies and approaches related to cognitive coaching in order to help both teachers and educational leaders create the conditions for all stakeholders to thrive within their organization.
Jim has a unique journey and has devoted his life to bringing out the best in others. As Jim was on my podcast last year, we both agreed that this episode was carrying on from our first one, so we consider it to be a part 2 to our great chat.
With every passing day, Jim is fully committed to refining his work and sharing what he learns with others. It's common for consultants to define themselves as experts, but Jim is the type of leader and presenter who values being in and amongst the group, learning alongside them throughout the workshops he presents.
Whether you are an educational leader, a teacher, a coach, or in any other line of work, you are sure to find valuable takeaway in my episode with Jim Roussin.
To listen to part 1 of the podcast recorded last year, please click this link https://21clradio.com/4377-2/.
About Jim
Jim Roussin has worked as a language arts teacher; gifted coordinator; ESL coordinator; curriculum director; executive director of teaching, learning, and school improvement; adjunct professor; and educational consultant. He is currently the executive director for Generative Learning (www.generative-learning.com).
Jim is the author of a variety of articles as well as a coauthor of the book Guiding Professional Learning Communities: Inspiration, Challenge, Surprise, and Meaning (with Shirley M. Hord and William A. Sommers, 2010). His new book will be published in 2013 with Shirley Hord — Implementing Change Through Learning. Jim is a teaching associate for Human Systems Dynamics (an institute that is using complexity theory to impact organizational development work). He also facilitates program evaluation. Jim has another book coming out in December of 2018.
Connect With Jim
Email: [email protected]
Twitter: https://twitter.com/jroussin
Website: http://www.thinkingcollaborative.com/
Themes Discussed:
Empowerment, Reflection, Thoughtful Use of Language, Cognitive Coaching, Adaptive Schools Training, Learning From Failure, Non-Judgement