Time flies by, especially as we get older.  In fact, some study (and I am not making this up) said that once you hit 30,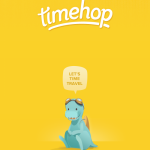 time accelerates at an incrementally increasing pace. The TimeHop app takes advantage of this new reality by pushing daily reminders of photos, tweets and other "stuff" that you did on any given day one year, five years and more years back. It is so much fun to see what you looked like and were thinking in the past.  It even tosses in a news headline from that time period. TimeHop works with iOS and Android devices.  With your permission, TimeHop will link into your Twitter, Facebook, Photos and Foursquare accounts to pull the reminders.
Simple Uses?
It is a bit of a stretch to use this specifically in the classroom unless you have your students for more than one year.  For example a drama or band class.   However, I suggest teachers use it for the occasional "Day in my life" reflection.  Show your students what you were experiencing one, five or 10 years ago and have them reflect for you!


Do I Plan To Use It?
Yes, love these types of apps.
Commitment And Learning Curve
Easy to learn and easy to use. It tosses (pushes) a reminder to you each day to look at your old photos.


Best For
ES/MS/HS
Cost
Free. They just get to borrow your data.


Website
TimeHop.com