Canva
is a fantastic, web-based, image based creation system. It lets you create artwork for your social media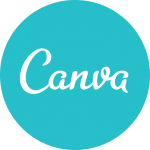 accounts, posters and more with the greatest of ease.
To make
Canva
even better, they recently introduced the
Canva photo editor
. This tool, as you can imagine is still web based and easily integrates with your personal Canva account. It does all the standard photo editing such as cropping, filters, color adjustments and more. Even though it is on the web, it is super fast and easy to use. Much easier to use than other services I think.
Simple Uses?
General photo editing for students

Poster design for students

Social media design.  Fun to create a character's profile page from a novel or something.
Do I Plan To Use It?
Oh for sure! I love Canva so much, I will be happy to use the photo editor as well.
Commitment And Learning Curve
Low, low, low. Such an easy app to use. Just a few buttons and they are easy to see! It is not like inDesign or Photoshop where there are a zillion options.


Best For
ES/MS/HS
Cost
Free


Website
photo-editor.canva.com/