Starting its life as
Kickstarter campaign
,
CarQuiz Math Game
basically matches the game's name. Players download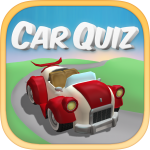 the game and run through three laps, or five minutes of math problems.  Subtraction, addition, multiplication and division are all on the option menu and the game's description says it is appropriate for ages 5-12. Depends on math ability. Multiple profiles support multiple players on and individual racing basis.
Great graphics and entertaining music make this app enjoyable.
Simple Uses?
Short bursts of math activity as a reward for doing well in class

Keep the kids busy during a drive to some place (as the game's author suggests)

Differentiate student math learning with the multiple profiles

Warm up activity when class starts.  With the timing on it, that makes it simple to start and end.

Keep a chart in class of scores to encourage continued work
Do I Plan To Use It?
Commitment And Learning Curve
Really low commitment and learning curve. If you arleady know how to do math, can click left and right, then you can use this app. Super easy to roll with.


Best For
Cost
$3.99


Website
http://www.carquizgame.com/