Coffitivity
is a productivity app available on the web or for smart device download for both iOS and Android devices.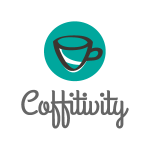 Simple, mono-functional, and effective,
Coffitivity
is nothing more that an ambient sound streamer that offers coffee shop sounds to boost productivity. Many of us find grading papers or cruising the web to be more enjoyable (less onerous?) when we are not alone. We tend to find ourselves in coffee shops, where we can work for hours. While this is not for everyone, many of us are more productive around people and the hustle and bustle of life. It really works! The light background of conversation murmurs and coffee cup clinks really add to the energy of what would otherwise be library-quiet activities.
Simple Uses?
When kids are busy studying, doing sustained silent reading, or otherwise prone to fatigue the energy-inducing ambient noises have a noticeable, positive effect on moods and productivity. There is a reason that so many of us take our work to coffee shops. Life happens there!


Do I Plan To Use It?
I do!
Commitment And Learning Curve
Zero, ziltch, nada. If you can click on a link, you can use this service


Best For
MS/HS
Cost
Free for three sound loops (this level is fine by itself!!!) $9 for three additional ambient coffee shop sound-loops


Website
https://www.coffitivity.com/