In today's episode, my guest, Margaret Heffernan, discusses her work and vision related to helping organizations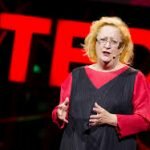 around the world create the changes needed to inspire all stakeholders to thrive. She brings with her a model of thinking that challenges all people to respectfully speak their truth in an effort to help everyone around them improve upon their performance and find deeper meaning in the work that they do.
In our conversation, Margaret delves into the principles embedded within her best-selling book, Willful Blindness, and the need for people to no longer stay silent, but instead to embrace the magic of asking exploratory questions to better stimulate important discussions related to improvement and change. Margaret's work has great value and application in the world of education. She believes in each person's ability to be an ordinary hero who can change the world through honest and open dialogue and utilizing critical feedback for self-growth.
Themes Discussed:
Critical Feedback, Growth & Development, Inspiring Change, Human Behavior, Embracing Conflict, The Power of Questioning
Margaret's Bio
Margaret Heffernan is an entrepreneur, Chief Executive and author. She was born in Texas, raised in Holland and educated at Cambridge University. She worked in BBC Radio for five years where she wrote, directed, produced and commissioned dozens of documentaries and dramas.
As a television producer, she made documentary films for Timewatch, Arena, and Newsnight. She was one of the producers of Out of the Doll's House, the prize-winning documentary series about the history of women in the twentieth century.
She designed and executive produced a thirteen-part series on The French Revolution for the BBC and A&E. The series featured, among others, Alan Rickman, Alfred Molina, Janet Suzman, Simon Callow and Jim Broadbent and introduced both historian Simon Schama and playwright Peter Barnes to British television. She also produced music videos with Virgin Records and the London Chamber Orchestra to raise attention and funds for Unicef's Lebanese fund.
Leaving the BBC, she ran the trade association IPPA, which represented the interests of independent film and television producers and was once described by the Financial Times as "the most formidable lobbying organization in England."
She was named one of the Internet's Top 100 by Silicon Alley Reporter in 1999, one of the Top 25 by Streaming Media magazine and one of the Top 100 Media Executives by The Hollywood Reporter. Her "Tear Down the Wall" campaign against AOL won the 2001 Silver SABRE award for public relations.
Her third book, Wilful Blindness (Simon&Schuster in the UK, Bloomsbury in the US, Doubleday in Canada) was a finalist for the Financial Times/Goldman Sachs Best Business Book award and, in 2014, the Financial Times named it one of its "best business books of the decade." Her next book A Bigger Prize (Simon&Schuster in the UK, Public Affairs in the US and Doubleday in Canada) won the Transmission Prize. Her most recent book Beyond Measure : The Big Impact of Small Changes was published in 2015. Her TED talks have been seen by over 6 million people. She has been invited to speak at all of the world's leading financial services businesses, the leading FTSE and S&P corporations as well as the world's most successful sports teams. She continues to advise private and public businesses, to mentor senior and chief executives and to write for the Financial Times and Huffington Post.
Connect With Margaret
Twitter: @m_heffernan
Website: http://www.mheffernan.com/
Margaret's Ted Talks:
https://www.ted.com/talks/margaret_heffernan_why_it_s_time_to_forget_the_pecking_order_at_work
https://www.ted.com/talks/margaret_heffernan_dare_to_disagree
https://www.ted.com/talks/margaret_heffernan_the_dangers_of_willful_blindness
Margaret's Books: