In this episode, renowned consultant, Ewan Mcintosh digs deep into his own journey and the major life lessons he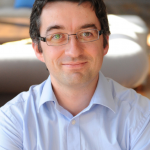 has learned that have had a tremendous impact on the work that he does. His company, NoTosh, is a global consultancy with a passion for learning and a conviction that innovation and creativity can change the way people think, the way they learn and the way they work – as individuals, teams, organisations, and communities.
Notosh was established in 2009 to improve student engagement by challenging the status quo of teaching and learning in schools. But they quickly realized that their NoTosh Design Thinking process, like their students, had a valuable role to play in the wider world too.
Ewan has worked hard to build the best team possible at Notosh and surrounds himself with people that will make him better each and every day. In this episode, he shares specific strategies that have led to his company's success and also dives into obstacles that he has had to overcome to produce his best work possible.
This was a great conversation that is sure to provide listeners with some gems of insight that can be applied in their own work and life.
Thanks for listening to my episode with Ewan Mcintosh.
About Ewan
Leading projects around the world for clients in education and industry, Ewan is the passionate and energising tour de force behind NoTosh. A highly-regarded keynote speaker at events around the world, he's also the author of How To Come Up With Great Ideas and Actually Make Them Happen and regularly writes about learning on his blog edu.blogs.com.
Ewan will be Keynoting at the 10th Annual 21st Century Learning Conference
Connect with Ewan
Twitter: @ewanmcintosh
Website: notosh.com
Themes Discussed:
Purpose, Overcoming Obstacles, Designing Your Thinking, Notosh, Self-Directed Learning, Empowerment, Team Cohesiveness