Play is not an activity itself, but a state of mind. I learned this today from my guest Mark Collard, the founder and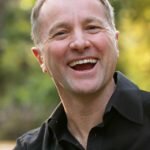 director of Playmeo, an organization dedicated to enhancing how humans connect with each other.
As we see many schools beginning to understand and incorporate Social Emotional Learning, in their programs, Mark's emphasis on fun and play as a way increase connections within classrooms and psychological safety is very timely.
Mark helps us understand the why behind more play, the research to back it up and how we can use it as educators.
These quotes from our talk summed it up well for me: "Connect first before delivering content." And "Fun is a magnet for participation."
Bio
He runs a small professional development company called playmeo, which hosts the largest online database of group games and activities in the world. He has written five books, his latest called No Props No Problem which features 150+ outrageously fun group activities that do not use equipment to help people connect.
Connect