This podcast series is devoted to sharing good teaching practice at Gardens Elementary School which is located on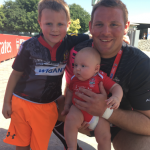 the King Abdullah University of Science and Technology campus in Saudi Arabia. At GES, our student population is multi-cultural, diverse, enthusiastic, engaging and confident. They are also fun loving and happy.
Through the IB Primary Years Programme (PYP) we provide opportunities for students to develop an understanding of essential concepts, skills, knowledge and attitudes that will enable them to be lifelong learners. Our students are actively involved in authentic inquiry-based learning across all the curriculum areas. They develop confidence in their abilities, think for themselves, question, express their opinions and respect the opinions of others. As students learn to reflect on their learning, they become critical thinkers. We encourage students to voice their ideas and to take action to improve the school and the community. Student achievement and progress is shared through regular assemblies, parent conferences, open houses and activities aimed at making the school a stimulating center for the community.
This Episode is With Simon Bissell
Supporting Student Learning
In this episode, grade 2 teacher, Simon Bissell, discusses the key strategies he puts into action in his classroom to ensure that he provides his students with opportunities for genuine voice and choice to take place. Simon shares the work of his students in their recent, 'How We Organize Ourselves' unit and how their learning led them to wanting to organize a large scale event for their classmates across the grade level. However, planning an event such as this can be a very daunting task for a classroom teacher, but in letting go of control and placing ownership in the hands of the students, both Simon and his students learned a lot. Simon shares this learning in today's episode.
As Simon has a extensive background in sport, we also discussed the major life lessons that he learned through sport and how he has been able to apply this learning to becoming the teacher he is. Simon continues to work hard on his teaching practice to elevate his game and provide the best experiences possible for his students.
Simon's Bio
I completed my Bachelor's Degree in Contemporary History and Politics from Salford University in the UK. During my time in the UK I taught across various year groups ranging from Early Years Foundation Stage, right through to Middle school.
I am currently in my 5th year teaching at The KAUST School.. I have spent 4 years in Grade 1 and this year made the move up to Grade 2. I love being an educator in such a wonderful, diverse school and community.
Away from my school life I am happily married to my wife, Caroline, and we have two wonderful boys aged 6 and 1. I enjoy an active lifestyle and I'm also proud to be part of the KAUST adult and junior Rugby Club. We currently have 120 children enrolled who receive coaching and skill building on a weekly basis.
Connect With Simon:
Email: [email protected]
Connect With Gardens Elementary School
Twitter: @GESatKAUST
Website: http://tks.kaust.edu.sa/Message-from-the-Principal-GES
Themes Discussed:
Voice and Choice, Agency, Student Action, Organization, Learning From Failure, Student Leadership