Does it drive you crazy when people look at your screen when you are working on your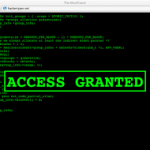 laptop in a public space?
Do you ever wish you could be someone you are not?  For example a famous computer coder that appears to be doing something important?
HackerTyper lets solves many of the problems above.  A simple website with a single user interface, HackerTyper makes it appear to others that you are typing a secret code that may have an important impact on the entire world.  All you have to do is pull up the website and start typing randomly on a keyboard. A bunch of great looking code, on a green line screen, will spit out. It is truly random as what you type has no bearing on its look. People nearby will see you working on something tremendous!
Concerns
What if the code you write really does take over the world?
Sample Uses
Spoof your friends

Great for creating a movie

Story starter idea
Do I Plan to Use It?
I will use it for spoofing and fun. Maybe when I am in a meeting and want to see if my neighbors are watching my screen.
Commitment and Learning Curve
Zero!  Just type.
Best for ES MS or HS?
All grades and all levels!
Cost
Free!
Website Link
TyperHacker.com
Or GeekTyper