I found this app a long time ago but but it's had a big upgrade and is a pretty awesome app.  It always was, but now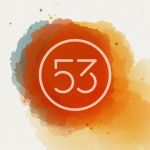 it's even better.  
This app is designed to be your all around note taking app.  You can take photos, annotate photos, create drawings, highlight photos, make graphs, create lists, record annotations.  Whatever means you would like to use to record your ideas or thoughts this app has a method for you.  
Concerns
None
Sample Uses
Keep track of lesson ideas

Allow students to take notes using their preferred method

I even know one student who used this to create their own presentation
Do I Plan to Use It?
Not sure yet. I've got a few other note taking apps that I like and I haven't decided if this has enough new features to entice me to switch over.  
Commitment and Learning Curve
Medium.  This is a very robust app and so it takes a bit of effort to learn all the features.  
Best for ES MS or HS?
MS/HS
Cost
Free!
Website Link
You can search for it in your favorite app store or head to this site:  https://www.fiftythree.com/