Overview
I've been working on planning our upcoming weather unit for grade 3 and needed a few more good quality resources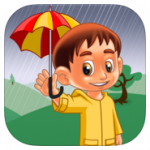 for studying the weather.  As I was looking around I came across this really cool app that is very kid friendly and easily tracks weather data within the app for you.  It's won the Parent's Choice Award in the past and I find that most apps that get this award seem to be really good quality.  
Within the app you can see hourly forecasts or full day forecasts, 10 day weather forecasts, track sunrise and sunset times, moon phases, wind data, rainfall, humidity, and even has a portion that talks about what you would wear in different weather situations.  It also allows you to track more than one location so you can compare weather around the world.  
Concerns
It does feel very young and so is better suited to 3rd grade and below.  
Sample Uses
Great way to do a "morning weather report"  or collect data in your class throughout the year.  
Do I plan to use it?
Yup!  I'm going to test it out during our next science unit.  
Commitment and Learning Curve
Low
Best for ES MS or HS?  
ES
Cost  
$1.99
Website Link:
Search for it on your preferred app store.