Regardless of our profession, we must remain open and receptive to new learning as it's this new learning that not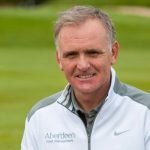 only helps us excel within our chosen field, but also makes a genuine difference in the work that we do. In this episode, I interview, Gary Nicol, a golf coach who worked on the European tour coaching some of Europe's finest professional golfers for 16 years. Great coaching has many parallels to great teaching. We dig deep into Gary's fundamental teaching philosophy identifying specific principles that he has put into action in his personal and professional life that help him to constantly refine his craft and raise the performance of those around him.
Gary shares a number of different strategies and approaches that he uses in order to better understand each golfer that he coaches. In better understanding them, he is able to differentiate his instruction in order to maximize the impact he has on helping them improve their games. There are many gems of insight that he shares that easily transfer over into the world of education. Whether you are a golfer or not, you are sure to learn some valuable takeaways in this episode that are applicable to the work that you do.
About Gary
Co-Founder and Coaching Director of Tour Pro Experience Golf Schools, Gary has been coaching golf since the late 1980's. Since then he has helped thousands of golfers around the world including over 30 European Tour Professionals and numerous Ryder Cup players, amassing 10 wins as a coach. He has coached at all the Majors and loves to share the knowledge and expertise gained from these experiences with visitors to TPEGS in his own inimitable style. Gary combines his personal experience with the latest, V1 video analysis, SAM Putt Lab and Trackman precision swing and ball flight analysis to help golfers unleash their true potential. Gary works closely with TrackMan co-hosting training seminars and workshops and is a certified TrackMan University Master as well as a Certified Mind Factor coach. Look out for Gary's instruction in Today's Golfer magazine.
Connect with Gary
Twitter: @garynicol67, @archerfieldgolf, @tpegsgolf
Links to Gary's Work: http://www.tpegs.com/
Themes Discussed:
Self-Directed Learning, The Power of Questioning, The Importance of Listening, Intention and Purpose, Singular Point of Attention, Visualization, Data Informed Learning, Mindset