We all know Skype.  Or at least we should. ;-)  Normally we use it just to have conversations for free with family and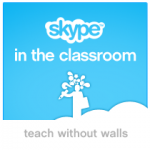 friends.
But there is a lot more to Skype than that!
Thanks to Microsoft (yes I said that) Skype has three awesome applications in the classroom
Simple Uses?
Do I Plan To Use It?
Commitment And Learning Curve
Best For
ES/MS/HS
Cost
Free!


Website
Skype In The Classroom