There are a lot of free and paid apps that claim to do green screen on the iPad.  Most of them are bad, produce grainy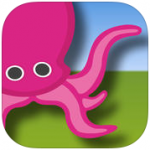 video, or just plain don't work.  Green Screen by Do Ink stands out.  The layout is clean and simple to use. Bring in a video with a green background, put another video or photo underneath it, and whatever is green becomes transparent revealing the photo or video underneath.  Color controls allow you to adjust the color key (it doesn't have to be green), and the level of transparency.  Videos and images can be repositioned with a simple pinch and drag.  Video export directly to your camera roll.
Simple Uses?
Book Talks (ala "Reading Rainbow") Students record in front of green screen with a photo of a book in the background.  Famous People project - Students dress as famous people and place themselves in a historical scene.


Do I Plan To Use It?
Already using it, why aren't you?
Commitment And Learning Curve
So easy even a teacher can use it.


Best For
ES/MS
Cost
$2.99 in the App Store


Website
http://www.doink.com/support/