Dr. Shane Pill and I recorded this episode live while in Dubai together last month. Shane and I were both keynote speakers/presenters at Jarrod Robinson's Connected PE conference. I've been meaning to have Shane on my show for quite some time, but we thought it would be even better to sit in person together to record the episode you are about to listen to.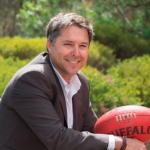 We dive into many areas of our profession, but in particular, the vision and philosophy that Shane has in regards to maximizing the impact that we can have on our profession and on the students that we teach. Shane brings a wealth of experience and knowledge with him and has a unique approach that focuses on empowering students to find joy and love of movement through specific approaches that he brings with him in the work that he does.
Having come to know many researchers from around the world in the field of physical education, I know that they are all very passionate about the work that they do. Although I have always been aware of the work that Shane does and have learned from him in the past, sitting down together and really digging into his specific vision allowed me to better understand his purpose and his desire to make a difference by equipping physical education teachers with the tools necessary to make a difference in the lives of the students that they teach.
I hope you take the time to listen to this episode with Shane Pill. You'll have immediately takeaway that can be applied to the work that you do.
About Shane
Shane previously worked for 18 years as a science and physical education teacher in schools in Perth and Adelaide where he held various leadership positions including HPE Coordinator, Sport Coordinator, Year Level Coordinator, Director of School Administration and Deputy Principal. Since 2006, Shane lectures at Flinders University in curriculum studies, physical education and sport studies and his research interests include curriculum design and enactment, pedagogy and instructional strategies for games and sport teaching, sport coaching and curriculum leadership. Shane is the author of six ACHPER published books on game sense teaching and coaching, and the concept of Play with Purpose. He is a Life Member of the Australian Council for Health, Physical Education, and Recreation (ACHPER); was an ACHPER Australia Board Member 2004-2009, and ACHPER(SA) Branch President 2002-2015. Shane is internationally recognised for his research into sport teaching and coaching, and he was a major contributing writer to the Cricket Australia S'Cool Cricket resource, the Tennis Australia Hot Shots Tennis resource and the revised AFL Sport Education program. Shane is a coach with the West Adelaide Football Club in the SANFL.
Connect With Shane:
Twitter:
https://twitter.com/pilly66
Themes Discussed:
Timely Feedback, Assessment in PE, Teacher Reflection, Refining Teacher Practice, Careful Design of Teaching & Learning, Connecting to Community