Your typical website is aimed at a specific reading level. For example, CNN is aimed at people with an 8th grade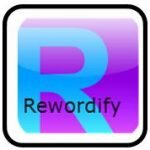 reading level while Fox News is aimed at a much lower reading level.
However, your students may actually be younger than the intended reading level and
Rewordify
lets students, or you, change the reading level.
It is simple to use too. Simply copy and paste the text in the box and watch it get rewordified.  It lets you know what words were changed and has four settings from easiest to most difficult.  There are options for the display as well. For example, if students can see the original words, color of highlight, etc.  Nice!
Teachers can create an account and add students to it.
Simple Uses?
Take difficult research material and make it more accessible to younger students.

Track how much students use it and what words they struggle with and who they grow

Allow for differentiated reading abilities within a classroom.

Analyze your own writing to see what it would look like in a simplified form.
Do I Plan To Use It?
My school already has some teachers using it and that is where I discovered it. Will spread the message further.
Commitment And Learning Curve
Low commitment and learning curve. You can use it right away. If you want to use some of the more advanced features, that is a slightly larger investment.


Best For
ES/MS/HS
Cost
Free!


Website
Rewordify.com