Data is so big … I said data is soooo big … How big is it?  Well, let me tell you today we  are exploring Big Data in the K-12 classroom. I don't just mean crunching numbers on test results. I mean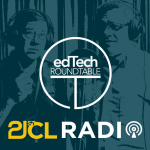 teaching kids what Big Data is and how to use it to their benefit.  We've also got lessons learned, a letter from a listener. Really, a real listener.
Lessons Learned
Peter –
Teaching your passion

The need for Big Data in K-12.

The Power of teaching "Guide on the side".

Evangelising BDA via distant learning.
Chris –
Tomato soup, spilled over the top of a microwave, may actually damage the device.

Everybody needs a night out with friends. It is wonderfully restorative and helps to reset your thoughts if you are stuck in a rut.
Notes & Links
"Without data you're just another person with an opinion" – William Edwards Deming
Big Data:
What is it?

Why teach it in K-12?
How Big Data supports individualized learning:
http://netkraken.blogspot.fr/2013/08/this-guy-left-google-to-put-power-of.html
How big Data needs to be visualized to be useful:
http://www.informationweek.com/big-data/big-data-analytics/big-data-is-nothing-if-not-visual/d/d-id/1113749
Examples of useful, visualized data:
(WWII Casualties) https://www.youtube.com/watch?v=pBTRSFgS9_w
(World population and economic growth with Hans Rosling)
https://www.youtube.com/watch?v=jbkSRLYSojo
Examples of Big Data in K-12:
http://www.edutopia.org/blog/digging-data-its-not-just-math-class-suzie-boss
http://www.ictinpractice.com/data-in-history-go-big-or-go-home/
Where to go to learn how to use Big Data:
http://bigdatauniversity.com/
Implementing and Developing Big Data Analytics in the K-12 Curriculum: A Preliminary Stage
https://www.youtube.com/watch?v=Vj8wMtHBUbs
Research on Big Data in K-12 education
https://www.researchgate.net/profile/Peter_Tong2/publications
Examples of student presentations on Big Data
https://www.youtube.com/watch?v=ffjavdAtXt8
https://www.youtube.com/watch?v=oHlr7VWTUIk
https://www.youtube.com/watch?v=SQKQd6DlGaI
https://www.youtube.com/watch?v=G0wthI6xqWY
Listener Feedback (Theme Music):
From Mike Brandon out of Trinity Lutheran School in Klein, Texas:
"First of all I am super glad that Mr. Pinick came to the Texas District Teachers conference so I learned about the awesome things your school is doing.  The best thing I found was your podcasts.  I have really enjoyed the podcasts, and think the two of you have really found your groove since Christmas.  I really enjoyed the recent episode where you brought in the High School students to share their insights on the ever changing landscape of education.  As I implement change in my own classroom it was good to get a different perspective from people not only outside my school, but half away around the world.  It definitely helped to reinforce some of the plans I was hoping to make to are US Pre-AP History class, so THANK YOU!  Also in an early episode about sharing Chris mentioned his WWI propaganda PowerPoint.  Is there any way to get a copy of it to add a few slides to my WWI overview???
Thanks again for all the effort that goes into a weekly show – it is worth it!"
Thank you, Mike. I hope the website I sent you concerning using primary source songs is history is a help. I love sharing great resources with colleagues, and Mark Johnson's Slave Spirituals podcast lesson plan is a sure home run! https://historythroughsong.wordpress.com/