Time. Do you ever have enough? If you're listening to this podcast then obviously you do, but for the rest of us, time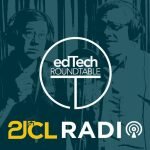 is a finite resource that must not be wasted.  Is there anything you can do to "save" time and work more efficiently? Well maybe THIS podcast is just what you need.  Join us as we share our Top Tech Tips for Saving You Time.
Lessons Learned
Dennis – Talking is more efficient than email.
Chris – The best antidote to freak-out stress is five minutes of positive action directed toward the thing causing you stress.
Daniel – Change your mindset and the solution will reveal itself.
Fun Fact
10 Ways to Overcome Teacher Stress for Educators of All Levels
https://globaldigitalcitizen.org/10-ways-overcome-teacher-stress
Notes & Links
Time Saving Web Tools
IFTTT, Zapier (Internet Superpowers) (also mentioned by Hugh McDonald via FB)

You pronounce IFTTT like "gift" but without the "g". The acronym stands for If This, Then That. and Zapier-Zapier makes you happier.

Simple Automation of tasks, triggers, actions.  Plug your cloud apps and allow them to interact.

Ex – Youtube Video like, triggers google spreadsheet to collect link, description, etc.  Great way to curate videos for your classroom.

Ex – Zapier – I used an online form to collect video requests from the public and had them inputted into a calendar event.

Youtube Video about how to use Zapier –

https://www.youtube.com/watch?v=yBVMrZlP0ZM

Google Classroom + Goobric + Doctopus = Virtual Rubric Heaven – Here's a guide by Kim Hicks:

www.tinyurl.com/TXTIA2016

RSS Feed Aggregator – Ex.

Feedspot

– Not new but a lot of teachers just don't use this.  People were mad when Google Reader was discontinued.  Instead of getting individual emails from all the blogs and sites you follow.  Most sites will have an rss feed that you can input into RSS Feed Aggregator.

KopyPasta

for Mac or  

Copy Pasta

for PC  – helps improve your productivity by keeping a record of your pasteboard. Cut & Paste activities are recorded and any previously copied item can be put back into the pasteboard at any time. Designed for those times when you need to copy multiple items one after another. Pull them back into the pasteboard as needed directly from your menu bar
Key Commands & Shortcuts
Screenshots –

MAC – CMD-SHIFT-3, CMD-SHIFT-4  Tip: Add the CTRL Key to copy to the clipboard instead of saving a file on your desktop.  

Win – PRT SCR key will copy the current screen to the clipboard then edit in Paint.(From Anne LeBlanc via FB)

MAC – Go to Accessibility Settings and Turn on Keyboard Shortcuts to zoom in and out.  When you present it looks like magic.  "Oh here, let me zoom in on that!"

CTRL -F – Don't Read a whole web page, just search for the words you want.  Pro-Tip: In Chrome you'll even see little yellow lines in the scroll bar where that word appears.

Fn Keys

Function F7 is your friend when you can't see your laptop after attaching it to the SmartBoard. (Laura Dawes)

Windows – F11 puts screen in Full Screen Mode OR takes it OUT of Full Screen Mode. (Lindsay Foster, TX)

Shift-COMMAND-V: Paste text only without any formatting.
Tips & Tricks you Might Not Know About…
Quick Bookmarks. In most browsers, if you have the Bookmarks or Favorites bar visible, you can drag the current website URL down to quickly add a link to that page on the bar. (In Chrome grab and drag the little icon next to the URL.)

Save a click or two, save your sanity.  Want to quickly preview multiple student submissions on Google?  Select multiple documents on drive, then click the "eyeball".  A preview window opens up and you can use the arrows to click through all the documents like flipping through a stack of papers.
More Tips from the "Group Brain" on Twitter and Facebook: