Defining the genuine purpose of physical education is never an easy thing to do BUT necessary if we are to have the impact that we desire on student learning in our programs. Being willing to take risk and deliver our programs differently to reflect the relevant needs of young people can help to increase levels of engagement and lead to more healthy lifestyles.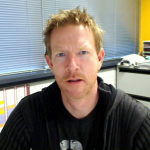 In this episode, Dr. Justen O'Connor discusses his views on what quality physical education means. He also shares an amazing research project that he was involved in a few years back that made a difference by giving young people in a small community a voice in a very important issue related to physical activity. Well worth the listen to hear about this initiative.
Connect with Justin
Twitter: @justenoconnor
Website: https://culturalpolicyreform.wordpress.com/category/justin-oconnor/
Bio
Justen has research experience that utilises systems thinking, strengths-based approaches to explore curriculum and pedagogy associated with health, physical education, sport and lifetime physical activity.
Major Themes Discussed
Quality Physical Education
Reporting
Community-based initiatives
Relevance in PE