The Education Vanguard
Bringing today's' leaders in education to your ears
The best professional letter writer service is available for you as well
The Education Vanguard is on a mission to seek out and discover interesting educators building, changing and improving the way we deliver education. Insightful questions, a casual atmosphere, and frank discussion help this show deliver value.
Tech Tools Daily
With a new show every weekday, Jamie, Chris and Michael review many fantastic products and services that seem to appear every day. Covering all grade levels, disciplines and educational models, the Tech Tools Daily show has something for everyone… including you!
"The three of these individuals bring intelligent information about the latest ed-tech in a minute…er more like 3+ minutes. The show isn't your typical dry commentary about what we are currently being bombarded with so many developments for education, but a lively discussion, which at time includes guests. Sometimes they bring the challenges, other times the great things. The one thing that strikes me is although their conversation is unscripted, it flows with pithy information to help ease the anxiety of trying to do it and figure it all out. You really get a sense of who they are, authentic, caring, hilarious, and smart." — BAM Radio Network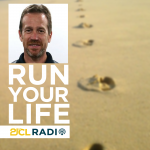 Run Your Life
Host Andy Vasily interviews leading experts in the field of education and beyond to discuss what matters most in their pursuit of both personal and professional excellence. Take a look at all his episodes

Ed Tech Roundtable
Join Dennis and Chris as they share their thoughts ( and they have plenty) on the edtech issues of the week. Give 'em a listen and your opinion after you listen to their show. Contact the duro at this email address:
Reflection Friday (retired)
With an odd addiction to reflection, Jamie, Chris and Michael spend 10-15 minutes every week on Reflection Friday discussing a current and/or important topic that relates to education. Sometimes they agree, but the more interesting shows are when they don't. Tune in every Friday and become part of a discussion focused on teaching and how it impacts your classroom.