The 5th installment of '4 X Mindfulness' was recorded live at Manhattan Bar and Grill in Nanjing, China. This is the last podcast that Neila and Andy recorded while living in China, so this episode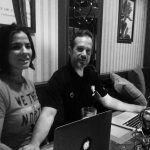 took on a special meaning as they are saying good bye to the life they've known for the past five years. Neila shared her two seeds of insight and inspiration for the past week with the first one being rooted in the idea of non-attachment and the nature of impermanence in our lives. She shares the work of Marie Kondo, a famous Japanese organizational consultant who focuses her work on decluttering the unnecessary in our lives. Neila also shared the inspirational story of Jean-Dominique Bauby, an author and past editor of the French fashion magazine ELLE. It is an extraordinary journey that led to the book The Diving Bell and the Butterfly. For Andy's two seeds of mindfulness for the past week, he shares his thoughts on the impermanence of relationships in our lives and the importance of always remaining open to connecting with new people who cross our paths as it's sometimes these new people who may very well have a very special, lasting impact on our lives. Andy also shares some inspiration he gained from the latest Tim Ferriss podcast featuring the work Ryan Halliday. Ryan discusses the 'Blank Canvas' strategy which is all about putting others first in our lives. Neila and Andy truly hope that you gain some takeaway value from this episode and would like to thank you all for taking the time to listen to their 4 X Mindfulness series.
Bios
Neila Steele and Andy Vasily are international educators who have worked at fully authorized IB schools in 4 different countries over the past 16 years (Japan, Azerbaijan, Cambodia, and China). Andy is a consultant, workshop leader, presenter, and speaker. Neila presents and leads multiple workshops in the area of mindfulness. They have devoted themselves to sharing the powerful effects that mindfulness has on promoting greater mental, social, emotional, and physical well-being.
Connect With Neila and Andy
Neila
Twitter: @neilasteele
Website: www.mindfulandpresent.com
Andy
Twitter: @andyvasily
Website: www.pyppewithandy.com
Themes Discussed:
Impermanence, Decluttering, Marie Kondo, Mike Kuczala, Jean-Dominique Bauby, The Blank Canvas Strategy, Embracing the Unknown, Gratitude, Perspective, Saying Good Bye