The journey of an educator is defined by both high and low moments. There are times when we are left in doubt as to next moves in our career. Taking charge and believing in our purpose is an extremely important thing to do in order to take the necessary action to following our dreams and goals. A willingness to learn and to be of service to others is what being an educator is all about. In today's episode, I speak with Aaron Hart about his journey over the past 20 years in education,the valuable lessons that he has learned, and how he is trying to make a difference within thePhysical Education community worldwide.
Connect with Aaron
Twitter: @nyaaronhart
Website: openphysed.org
Bio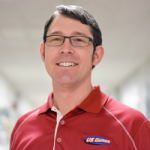 Aaron is the creator of OPEN and the Director of Educational Programs for US Games. He has co-authored several nationally recognized physical education curriculum projects and specializes in web-based content delivery. Aaron's passion for equity of access and community empowerment began 20 years ago and has continued to guide his professional journey. He began his teaching career as a New York City public school teacher and is currently a part-time faculty member in SUNY Cortland's Physical Education Department. The vision for OPEN began as a crazy conversation between Aaron and his long-time friend, Nick Kline. US Games and BSN Sports believed that Aaron's crazy vision was the right thing to do for teachers and for the kids that they serve. Aaron joined the US Games family in 2014 and the OPEN movement was born.
Themes Discussed
Quality Physical Education
9-11
Valuable lessons learned
Open Physical Education
Making a Difference