Overview
Easy to use, great for a wide range of ages and makes design easy are some phrases I use to describe
Adobe Post.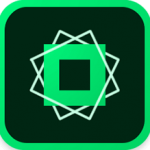 Along with
Adobe Voice
and
Slate
, Post is part of the suite of apps that Adobe gives away for free in exchange for an
Adobe ID
setup by you. However, all these products are really great and Adobe Post is no exception.
Post is a fairly simple app designed for the iPhone, and if you don't mind, an odd looking version for the iPad.
To use the app, you open it up, pick a template then hit the remix button. Three button choices follow you there: Design, Palette  and Photo. You can add a photo, add some text, change some colors and you have a great little poster. A nice way to make a fast Happy Birthday! card for someone and send it to them via social media. For teachers, though, there are better uses.  I find Adobe Post one of the best ways to make an enhanced image to add to an Adobe Voice, iMovie or Adobe Slate project. It really gives you a chance to discuss the importance of imagery, color, text and more.
As with other Adobe products mentioned, this one too has a built in search engine for creative commons images. This is one my favorite aspects of using these products. It integrates easily with other Adobe services.
Concerns
Just make sure you have discussions with students about what is appropriate to put up on the web and how to use a powerful tool like this for good.
Sample Uses
Create a class logo

Create images to go with your story

Create images to support a nonfiction story you are writing

Graphic design competition

Class Twitter account
Do I Plan to Use It?
I use it now with grades two and three. Need to spread it up the food chain to grades four and five as well. So awesome.
Commitment and Learning Curve
This one is really easy to use.  Right away you are making great art.  Now, of course, making art that follows good design takes more work.
Best for ES MS or HS?
All grades and all levels!
Cost
Free!
Website Link
post.adobe.com