I can't believe I have not reviewed this app already. It is one of my goto apps and all time favorites.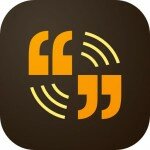 Adobe Voice
is a dead simple media creation app that lets students tell, or retell, a story of some sort. With the push of the orange recording button, students create a "slide like" show that is narrated by them. Adding images to each slide is super easy using the built-in
Creative Commons
image search engine and icon search engine. You can take your own pictures too if you like.
One of my favorite things is the ease of use that goes with the app.Younger students are really able to master it quite quickly and the design of the recording button is brilliant. If/when students make a mistake during recording, there is no delete button. They just push the record button for the second time and it records all over again.
In the end, they hit play and watch a cool video that is made from their photos and voice.  Music and background can be changed too. So cool.
Simple Uses?
Take a picture or your own story and retell it page by page

Explain your favorite author and what you know about her?

Share a story about your neighbor and what they like to do
Do I Plan To Use It?
We already do use it like crazy at my school.
Commitment And Learning Curve
I would say this is fairly low. Other than the password issues, the app itself is painfully easy.


Best For
ES/MS
Cost
Free


Website
https://standout.adobe.com/voice/