My theme this week is making complex things simpler.  I did a stop motion project a few years ago with our art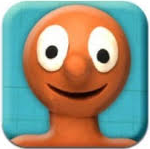 teacher and it took FOREVER to put it all together.  I remember using several apps to make it all work and was really frustrated with the process.  Enter Animate It!  This app is designed to make stop motion easier.  It even overlays the new picture on the old one so you can actually see if you've move the object too much.  It's quick and easy and I so wish I had know about this several years ago.  
Concerns
You will still need a stand or something to stabilize the phone or iPad so that your videos are more successful.  
Sample Uses
I've used stop motion in art and am now going to use it for my after school activity, but you could use it to create videos of student's stories, create how to videos… There are lots of ideas out there.  Here is an app that has lesson ideas although this one is linked to the app "stop motion studio" which is also a good stop motion app.  I currently like Animate It better, because it is simpler.  If you'd like to add sounds and more to your videos, check out Stop Motion Studio.    https://itunes.apple.com/us/book/stop-motion-studio-lesson/id939898658?mt=11
Do I plan to use it?
Yup!
Commitment and Learning Curve
Low
Best for ES MS or HS?  
ES/MS or HS
Cost  
$2.99
Website Link:
Search for it in your favorite app store!