Description
The Education community loves it's buzzwords. One of its favorites is "21st Century Learning". On this episode we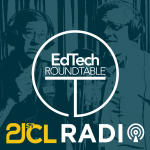 ask the Martin Luther question, "What does this mean? Really?  Follow along as we begin to dig beneath the hype and try to break down this term, turn it inside out, and see if we're just sayin' it or really doin' it.
Lessons Learned
Dennis – New Google Docs feature – set sharing expiration
Chris – Emotional Safety
Notes & Links
From Stephen Downes (via Discovery Spring Virtual Conference 2016) ←—This guy invented the MOOC
The Inflexible Law of Learning:
It's when we DO stuff that we learn, not when stuff does something for us.
Personalized vs. Personal
Personalized – WE do for YOU
Personal – YOU do for YOURSELF
Is 21st Century Learning
Less Personalized and More Personal?

Less about Grades and more about Skills?
What does this look like in a real classroom?  OR  What can I do on Monday to make a difference?