Bumpers is an iOS application that makes podcasts easy to build, easy to edit and easy to improve.
As with any recording app, you hit the record button and start chatting about your topic.  Whatever that might be. Very nice, very basic; what all the other apps can do already.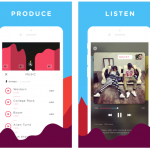 Bumpers has some extra features that make it awesome including musical segues and asides.
Simple Uses?
Create a news program about what is happening in the school or beyond

Create a "

This American Life

" style show where you retell a story of an exciting event in your life

Introduce students in the class with a few short words

Be a roving reporter where you ask people about something going on in the world or at your school
Do I Plan To Use It?
Yes, with ES it is really a great app.
Commitment And Learning Curve
Medium learning curve. Not so much because of the technology, but how to use asides, interruptions and seques without being annoying is really hard!


Best For
ES/MS/HS
Cost
Free only


Website
Bumpers.fm