Introduced to me by one of our third grade teachers, Fresh Grade is on online portfolio tool that students can use to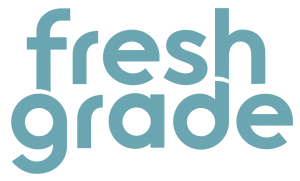 curate their own work, or submit projects for teacher created activities.  Advantages, students can capture their work using photos, video, audio, and PDF documents.  Fresh Grade is a web tool and also 3 apps. One for teachers, one for students and one for parents. Teachers create class, add students.  Before each student gets an access code, teachers must check a box that they have received parent permission for each child. Once they have an access code, students can use the student app to capture and add work to their portfolio.  Or if a teacher has created an activity for the students, students can submit work to for that particular activity and the teacher can track the grade the submissions.
Simple Uses?
Some of our grade 3 teachers are using it to collect sample student work. Once submitted they can pull up the student work on their computer and use to show evidence of learning at parent conferences.


Do I Plan To Use It?
I plan to assist teachers in implementing it.
Commitment And Learning Curve
Medium. Fairly basic if you just choose to use it just as a portfolio. A little more time investment if you want to set up activities, objectives, and gradebooks.


Best For
ES/MS
Cost
free


Website
www.freshgrade.com