This iOS app lets you design and test your own video game.  It uses a basic two-dimensional climbing and jumping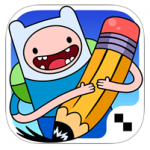 video game model but lets kids design the layout add the various elements to their levels - ladders, pits, rewards, etc.  What moves this tool up to a new level of coolness is the ability for kids to design their levels on paper!  Using a special downloadable and printable template, kids can draw their levels, and use their iPad camera to capture it and turn it into a game!  Perfect for a class where you do not have 1:1 iPads.
Simple Uses?
Great for a STEM like design challenge.  Have students create test and critique their games.  Is it too easy or too difficult? What makes a game more fun?


Do I Plan To Use It?
Not yet, but looking into it as a possible Co-Curricular Activity
Commitment And Learning Curve
You can start off easy by playing some of the sample levels to learn how it works.


Best For
ES/MS
Cost
Free in the App Store (Also has in-App purchases)


Website
http://www.projectpixelpress.com/floors/