I was looking for some good geography extensions to give my students as an extension during social studies and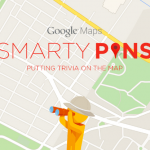 came across this awesome trivia website.  Smarty Pins gives students trivia questions that have a geography related answer.  Then they try to pinpoint the location using google maps.  It's a great game that students really enjoy.
Concerns
These questions are HARD!  When I had my third graders try this out I allowed them to use Google Search to help them find the answers.  Just remember to have them switch on "Safe Search" before they start.  This is also a great time to teach students about effective search strategies.  
Sample Uses
I haven't thought of a ton of different uses for this app right now I'm using it as a geography extension during social studies.  
Do I Plan to Use It?
Yup!  
Commitment and Learning Curve
Super low.
Best for ES MS or HS?
ES/MS/HS
Cost
Free!
Website Link
https://smartypins.withgoogle.com/