The terms digital and media literacy have been around for a while now, but I am not sure we all know exactly what those terms mean or have a common definition for them. Is it just using the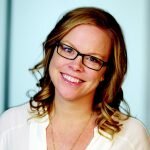 technology tools out there? Or is it using them in a certain way?
Today I speak with teacher, author and consultant Kristin Ziemke about digital and media literacy and the exciting possibilities and learnings that go along with opening your classroom to the wider world.  
Connect
Twitter

:

@KristinZiemke

Website

:

kristinziemke.com
Bio
A teacher of primary age learners in Chicago, Kristin Ziemke pairs best practice instruction with digital tools to transform learning in the classroom and beyond. Author of Amplify: Digital Teaching and Learning in the K-6 Classroom an Apple Distinguished Educator and National Board Certified Teacher, Kristin collaborates with educators around the globe as a staff developer, speaker and writer.