Dr Karl Morris is one of Europe's leading Mind Coaches, delivering cutting-edge methods of peak performance and goal achievement to a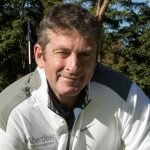 range of clients across sports and business.
From the world of golf, he has worked with players such as Darren Clarke, David Howell, Lee Westwood, Paul McGinley, Graeme McDowell and Louis Oostehazen among many others in both the PGA and LPGA.
As a consultant to the PGA of Great Britain and Europe, Karl has presented seminars all over the world to the Australian PGA, South African PGA, German PGA, Swedish PGA, Dutch PGA,  Belgian PGA and the Hong Kong Golf Association.
I feel lucky to have had Karl on my podcast and in this episode, we dig into a variety of themes related to peak performance. Although Karl works mostly in the arena of professional golf, he also brings his peak performance model to athletes in other sports and into the corporate world as well.
Karl firmly believes that good coaching or teaching is never telling people what they should do but instead to ask the right questions in order to unlock the potential held within. Karl involves his clients in the co-construction of their own learning ultimately helping them to unpack the answers themselves and it's in the process of this unpacking that they better lead themselves toward mastery of their craft.
In this episode, There are so many parallels to great teaching in the world of education which we also discuss, such as the importance of building relationships, differentiated instruction, and finding every student's entry point to learning.
You are sure to glean some great insight from this episode that can be applied in both your personal and professional life and if you are a golfer, you'll find even more value in our discussion. Thanks for listening.
About Karl
Karl Morris is a regular feature writer for a host of publications including Golf World, Todays Golfer, Golf International, National Club Golfer, Chip and Spin, as well as the author of 'Golf – The Mind Factor' with Darren Clarke.
He has a passion to demystify psychology and to provide a range of practical and applicable tools to assist performance breakthrough at all levels.
The Karl Morris MIND FACTOR approach to golf has been proven to help people transform their game in the only environment that really matters – THE REAL WORLD.
Connect with Karl
Website: https://themindfactor.net/
Twitter: https://twitter.com/Karl_Morris
Facebook: https://www.facebook.com/themindfactor/
Themes Discussed:
Peak Performance, Mindset, Asking Good Questions, Learning From Failure, Visualization, Mindfulness, Being Present