Overview
Peekapak is an exciting new tool that teaches K-3 kids communication skills while also focusing on social-emotional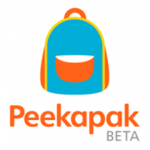 health. Common Core aligned and growing rapidly through product development and direct teacher feedback, Peekapak looks set to benefit many students in several ways. Peekapak is built around original stories that each focuses on a particular positive character trait like empathy, kindness, and respect. Each lesson is 20-minutes long, which is a perfect time length given audience age.  The characters, a mix of cartoon kids and anthropomorphic animals, have real personalities, with their own strengths and interests, making the cast of characters both enjoyable and believable within the context of the program. An additional strength of the program is the rich supporting material for both teachers and parents/guardians. This program invites the whole community to support the reading, listening, writing, and speaking skills of young students while developing positive examples of good character and healthy self-esteem. Another strength, and perhaps its greatest potential strength, is that the head of Peekapak keeps her business calendar open and online, inviting immediate feedback and discussion with teachers and parents. I have never heard of this level of openness. Clearly, Peekapak is a service that works with the community, not just for the community.
So how does sit work? For a teacher, Peekapak directs you to a landing page where you get to select the story theme of your choice. Choosing the perseverance theme, I am directed to a page that allows me to launch the story, but also provides a brief descriptor, a "Why this is important" explanation, "Big ideas," "Listen for this language," and "making connections" bullets. The page also has a link to unit resources in PDF form that is so attractive that they can be made into posters that build interest and extend the story. Further, there is a convenient "Print" button to assist teachers.
The left column menu also offers various supports, including reports, news tracking, and skills tracking (which is coming soon).
Concerns
No real concerns here. The program is not free, but you get what you pay for.
Sample Uses
As is clear from the site, this is a program for K-5 classrooms, specifically the language arts portion.
Do I plan to use it?
I would definitely use this program if I taught K-5. My school is currently taking the steps to purchase Peekapak, and I am happy for it.
Commitment and Learning Curve
Low. Yes, this program really is user-friendly, perfect for the elementary school teacher, who must prepare myriad lessons every day.
Best for ES MS or HS?
ES
Cost:
Individual teacher accounts are free if you wish to try out the system, but the school/district must purchase Peekapk to make the most effective use of what Peekapak has to offer. Sometimes in life, you get what you pay for, and Peekapak is definitely worth the look.
Website Link:
https://www.peekapak.com/