Overview
Do you ever have the urge to scan something, but there's not a scanner around, or it's at home or back in your office?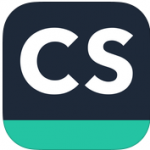 Did you know know you have a scanner in your pocket? If you have an iPhone (or iPad, or Android) and the CamScanner app you have all you need to scan documents, convert them to an image or a PDF and send them to your Google Drive, Dropbox, or Box account.  CamScanner uses your camera to capture an image. It detects the edges of the page and creates automatically adjusts the color and contrasts.
Concerns
The free version puts a watermark on your documents.
Sample Uses
Quickly capturing student work product or documents that may only exist in the paper world.
Do I plan to use it?
I've used to to capture receipts and collect them in a dropbox folder. Or to capture and send documents while on the go.
Commitment and Learning Curve
Easy to use and connect with your online cloud storage.
Best for ES MS or HS?
Teachers, Admins, or anyone who needs to grab photo or document images quickly.
Cost:
Free/Paid
Website Link:
https://www.camscanner.com/