Learning is all about relationships. Sound familiar? If you're a regular listener to this podcast you no doubt recognize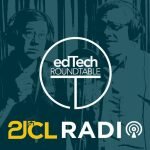 this recurring theme. This theme will be the focus of our show today as Darcy Hendriks, Concordia's Middle School Choir teacher, talks with us about the importance of connecting honestly and authentically with students through relationships, technology, and of course…music.
Lessons Learned
Dennis – It's a Small World After All
Chris – You have to touch the heart before you can reach the mind
"Every kid is one caring adult away from being a success story." – Josh Shipp
Darcy – You are not a waste of space…
Notes & Links
SPECIAL GUEST – Darcy Hendriks
Learning is about relationships.  I love the quote, "You have to take care of Maslow before you start with Bloom."  
Discussion – The importance of feeling "safe" for performance in music. (And other curriculum too!)  How do you establish this?
Does technology play a role in this "authentic" connection? If so how?
Links
The Importance of Teaching Through Relationships
"While maintaining the formal relationship between students and teachers, teaching through relationships, when done well, recognizes the human stories of the learners themselves (they are not blank slates), as well as that of the teacher. It is an approach that embraces our complex identities, biographies, and the stories we bring that serve to humanize the subjects we teach."
12 Things Students Remember About Good Teachers
Fostering a sense of belonging

Getting to know students personally

Supporting academic success

Attending to physiological needs

Knowing students' names

Displaying care and concern during office hours

Knowing and understand students

Creating interesting and applicable lessons

Addressing student concerns during course time

Expressing care verbally

Expressing care non-verbally

Projecting a "feeling of care"
How to Design a Classroom Built on Inquiry, Openness and Trust
"Essentially these are the two criteria we use to assess the product we're going to create. How do we extend our learning beyond our classroom — and how can what we do here make a difference to the real world? Our tool selection is guided by the answers to these questions."
Every Kid is ONE Caring Adult Away From Being a Success Story (YouTube)
Why Empathy In The Classroom Is Vital (and How to Practice It)
Model it.

Try to communicate empathy.

Emphasize shared values and common interests.

Offer a safe environment to discuss differences.

Use self-disclosure.

Create opportunities for collaboration.