This episode was scheduled to be released right after the New Year, so it's a bit late in getting out. Neila and Andy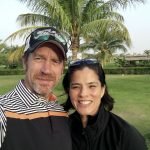 recorded their 14th episode of '4 X Mindfulness' while vacationing in Paris in early January. To kick start 2017 they both shared their recent insight and inspiration in regards to living a more mindful life, especially going into the new year.
Andy's first seed of mindfulness has to do with better dealing with the stressors that the holiday season can bring with it to our lives if we are not careful. Regardless of the time of year, vacations, celebrations, and other holidays can cause stress, anxiety, and tension as we tend to build these moments up to mean much more than they actually do. Without knowing it, we can unravel when things don't go as planned during these big moments, causing even more stress. Andy shares a blog written by one of his favorite authors, Brene Brown, that is all about the importance of taking on a different perspective when it comes to holidays and celebrations.
Andy's second seed of mindfulness has to do with goal-setting and the anxiety that comes with it as we sometimes tend to focus only on the future without being grateful for the present moment when it comes to the small successes that we experience with the goals we set for ourselves. He was inspired to share this perspective on goal-setting after hearing Tim Ferriss and Tony Robbins speak about in a recent podcast.
For Neila's two seeds of mindfulness, she shares a very mindful Japanese way of looking at life and it's difficult moments. She delves into how this perspective takes on a very mindful approach when dealing with potential difficulties that can arise in our lives. As well, Neila shares a 3-step strategy inspired by the work of Stanford PHD, BJ Fogg that has been proven to be successful in changing unwanted habits in our lives. In controlling what is within our spheres of influence, we can have much more success in creating the habits that we need to better serve us in life.
Although an originally scheduled New Year's episode, Andy and Neila hope you are able to capture a gem or two that can be applied to both your personal and professional life regardless of the time of year.
Bio
Neila Steele and Andy Vasily are international educators who have worked at fully authorized IB schools in 4 different countries over the past 16 years (Japan, Azerbaijan, Cambodia, and China). Andy is a consultant, workshop leader, presenter, and speaker. Neila presents and leads multiple workshops in the area of mindfulness. They have devoted themselves to sharing the powerful effects that mindfulness has on promoting greater mental, social, emotional, and physical well-being.
Connect With Neila, Andy, and Mike
Neila
Twitter: @neilasteele
Website: www.mindfulandpresent.com
Andy
Twitter: @andyvasily
Website: www.pyppewithandy.com
Themes Discussed:
Tiny Habits, Gratitude, Perspective, Power to Change, Presence, Self-Awareness, Reflection, Goal-Setting, BJ Fogg, Brene Brown