In today's Run Your Life podcast, special guest Andy Dutton from the United Nations School of Hanoi, joins Andy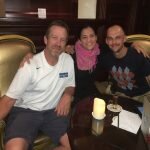 Vasily and Neila Steele for the 16th episode of their '4 X Mindfulness' series which was recorded live in Bucharest, Romania. As always, the main goal of '4 X Mindfulness' is to share seeds of inspiration related to living a more mindful personal and professional life.
The first seed of mindfulness was shared by Andy Dutton and had to do with the importance of connecting at an emotional level with the students that we teach day in and day out in the work that we do. This emotional connection is not possible if we are not present and focused on developing relationships first. Andy shares his belief that creating strong emotional connections with others changes lives and that we must never forget this.
In moving into the second seed of mindfulness, Neila discusses how critical it is to know the triggers in our life that have the potential to cause us to act in ungraceful ways when dealing with others. In knowing these triggers we can bring more mindfulness into the way we choose to respond to others who will challenge us.
For the third seed of mindfulness, Andy Vasily shares how he was recently inspired by the work of singer/songwriter Jewel and her belief that mastery is all about showing up day after day and continually refining what we do in order to be our personal best. That being our personal best means that we can give more and when we give more, we impact others.
Andy Dutton closed off today's episode by speaking about the work of Mike Kuczala and how Mike inspired him to understand that meaning making is state dependent. When we deal with others in the work that we do, it is the human connection, at an emotional level, that brings out the best in us. When we are present and in the moment, we are more receptive to these emotional connections.
As always, Neila Steele and Andy Vasily would like to thank you for listening and hope that with each episode comes new learning and gems that you can apply in the work that you do.
Bio
Neila Steele and Andy Vasily are international educators who have worked at fully authorized IB schools in 4 different countries over the past 16 years (Japan, Azerbaijan, Cambodia, and China). Andy is a consultant, workshop leader, presenter, and speaker. Neila presents and leads multiple workshops in the area of mindfulness. They have devoted themselves to sharing the powerful effects that mindfulness has on promoting greater mental, social, emotional, and physical well-being.
Connect With Neila, Andy Vasily and Andy Dutton
Neila Steele
Twitter: @neilasteele
Website: www.mindfulandpresent.com
Andy Vasily
Twitter: @andyvasily
Website: www.pyppewithandy.com
Andy Dutton
Twitter: @PEAndyD
Themes Discussed:
Gratitude, Reflection, Ferran Adrià, Meaning Making, Mike Kuczala, Aaron Beighle, Physical Education, Student Relationships, The Power of Emotional Connection