Adobe Slate is an easy to use and intuitive iPad app that makes telling a visual and textual story simple.  With limited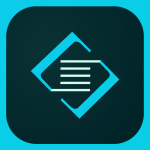 menu choices and a clear workflow/path, students will quickly master the story and be up going right away. Students open up the app and have a blank slate with four choices for adding content: Photos, text, links and a photo grid.  They can use the iPad's camera, take from their personal camera roll, or easily search the web for photos all from inside the app. The story can be transformed into a website for easy sharing.  It is possible to keep the site private and to share it over your favorite social media platform. Again, this app is SUPER simple to use with limited choices and a very clean design. An Adobe account  is required to get up and rolling.
Simple Uses?
Share the personalities that make up a sports or other team
Share the birthday girl/boy day with everybody
Share and record special events in the classroom
Class newspaper with the latest happenings
Bio about each student to use at the beginning of the year
Portfolio and check in during the year.
Do I Plan To Use It?
Yes, it will be a nice addition to Adobe Voice and easily links to a student's existing web page.
Commitment And Learning Curve
Low. The tech is super easy. Telling a story… well I have whined enough about that.


Best For
ES/MS
Cost
Free!


Website
standout.adobe.com/slate/