Blab
is an interesting, maybe odd, idea from a company called Bebo. Using your mobile device or web browser, and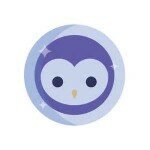 after signing up via Twitter, you can create or join live conversations about a variety of topics. You can also just lurk and watch/listen if you want.
Right away, you can join an existing conversation or create one where other people can join.  Now these people are anybody from around the web. Because it requires you to sign in via Twitter, you will see the person's Twitter bio and get a sense of who they before they join the group. Organizers have control over who they choose to accept. The event is recorded for later playback.
It is easy to start the "blab" session right away, or book it for the future.
Topics range ALL over the place. For example, I went on the site and listened to "RV women of America" talking about travel. How wild is that?
Simple Uses?
Have students create their own discussion channels with other students from their school or others.

Use it to record short discussion sessions within a classroom for later review.  Something about having a recorded discussion that makes things more formal.  Would be an interesting assessment for a classroom.
Do I Plan To Use It?
Yes, but since I teach ES, not in the classroom. I would love to use it for this very podcast though. Jamie, Chris? Are you game?
Commitment And Learning Curve
Appears to be low. I was able to get up and running with no problem.


Best For
HS