Sustained writing, without a break, is a great writing exercise. When I say no break, I mean continuous writing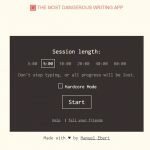 without taking your fingers off the keyboard. It can be hard to "encourage" students to keep on writing as well.  Ever since the world court ruled that breaking student fingers was no longer an appropriate motivator, we have had to come up with alternatives.  The Most Dangerous Writing App is one of those finger breaking free alternatives.
Head to their website, set the appropriate amount of time ( 3, 5, 10, 20, 40, 60 mins) and away you go. If you pause for more than five seconds EVERYTHING you wrote disappears. Crazy!
Concerns
Just make sure you have discussions with students about what is appropriate to put on the web in terms of both writing and commenting.
Sample Uses
Brainstorming

Daily reflection

Increase stamina. See how long students can write and push it a little more each time.
Do I Plan to Use It?
For me? Yes! For ES kids, no. They just can't type fast enough and I fear they would cry and things.  That is a pain.
Commitment and Learning Curve
None!  You just use it. Super simple site. Someone likely made it just for fun.
Best for ES MS or HS?
MS, HS and Adult
Cost
Free!
Website Link
TheMostDangerousWritingApp.com/