Asking students to all go to the same website address can be a little annoying.  Ok, if the website address is like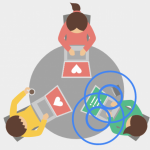 CNN.com, no problem, but if it something really long, then forget it!  You end up having to email the address to them or sending via Facebook Messenger or something.
Google Tone
, takes care of that problem!   
A simple Chrome extension, Google Tone lets you you click one button on your browser that sends out a musical tone for all the other Chrome browsers to hear. Students then get a message asking them to confirm they want to go to that website.   They click on it and away they go!  Simple.
Simple Uses?
Send out examples of exemplary work from a student

Send out addresses of websites you want everybody to use for a project or assignment

Send out your

Delicious

or other social bookmarking site
Do I Plan To Use It?
Yes! Already have it installed.
Commitment And Learning Curve
Very low. Just need to create that habit of using it mostly.


Best For
ES/MS/HS
Cost
Free


Website
Chrome Extension store.