This awesome app turns your iOS device into a document camera or whiteboard and allows you to take video,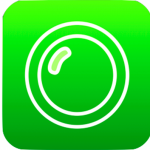 photos, annotate and audio record all in one single app.  Since I couldn't think of a better way to explain it, I'm going to allow the creators to speak for themselves:  
"Board Cam transforms your iOS device into an enhanced document camera or a whiteboard. Perform live dynamic presentations of objects, interact with images stored in your device, draw on a whiteboard or over video streaming without changing of application... while you record videos! Record outstanding tutorials and how to videos. What you do is what they see."
Simple Uses?
There are a ton more, but here are a few I thought of:
Create videos for your flipped classroom by recording the lessons you already teach live.  

Make science labs easier to see for your whole class by showing them on your projector and using annotations to point to what you want your students to look at.  

Take photos of students work and then immediately and seamlessly show it on the projector in your class.  
Do I Plan To Use It?
Already do!
Commitment And Learning Curve
Medium


Best For
ES/MS/HS
Cost
1.99 USD


Website
The easiest way is probably to search for it on your favorite app store or you can see the website here: https://sites.google.com/site/boardcam/