I've always loved the movies that begin with a
Rube Goldberg
device that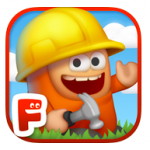 someone has created to feed their dog and make their morning coffee or sharpen their pencil or some other basic chore.  There is something about the clear cause and effect that is awesome to watch.  That said, I have discovered that Rube Goldberg devices are incredibly hard to create in real life.  I tried doing a project with these in a grade 4 class and the students managed to do it but what I thought would be a 1 day activity ended up taking almost 5. Most of us don't have that kind of wiggle room in our curriculum.  So, is there a spot for Rube Goldberg devices in the classroom? Thankfully, there's an app for that.  :)  
Inventioneers
is an app that allows students to move through levels where they have to put together a Rube Goldberg machine to perform a task (get the kitten out of the tree, shoot the scuba diver into a pool, etc.).  But the best part is that as you move through levels you gather different devices that go into your tool box.  Then when you have a few devices you can create your own challenge for your friends to solve.  Walah!  You can integrate Rube Goldberg devices into your classroom without using tons of tools and 5 days of instruction.  (Of course the real thing is still cooler than the app, but the app is still pretty cool).  
Simple Uses?
I see this mostly as an extension, a center or a reward activity for students who get finished with work early.


Do I Plan To Use It?
I think so. If you have a force and motion unit in your curriculum this would be a great app to build into the unit.
Commitment And Learning Curve
Low


Best For
ES/MS
Cost
Free


Website
Find it in your preferred app store or use this link: https://itunes.apple.com/us/app/inventioneers/id926202053?mt=8