If you are an elementary teacher you know the benefit of doing running records on students to chart their reading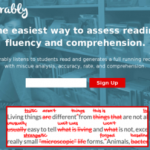 abilities and track growth over time. You may also know that running records are time intensive to do and that you often have to rely on outside help to do it more than a once or twice a year. Literably.com looks to help with the process to the point where a student can simply record their reading, and like magic, a teacher recieves a report within 24 hours.
Simple Uses?
Only one specific use case is possible: To have students do running records on a regular basis.


Do I Plan To Use It?
Not sure. I will float the idea out to the admin and our literacy coach and see what she says. My school is well resourced and maybe they will find a solution like this something worth paying for as a trade off to freeing teacher time for other things.
Commitment And Learning Curve
Commitment and learning curve is not too bad. Mostly students read into a microphone and away you go. Easier than a typical running record process.


Best For
ES/MS
Cost
You can try 10 for free, but after that you need to negotiate a pricing plan based on your needs.


Website
Literably.com