Museum of the World
is a website in orbit about the
Google Culture Institute
, in cooperation with the
British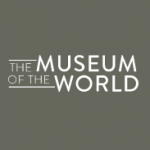 Museum
. As a History teacher I was drawn to the word "museum" only to find another innovative Google initiative that extends beyond any traditional "History" category. On its surface,
Museum of the World
is a timeline of British Museum artifacts, organized by region of origin. Scratch the surface, though, and one finds much more. The artifacts are also organized by one of five categories, so a person wishing to view only those artifacts tagged with the "Religion and Belief" category become visible. Click on the object itself and one has the option to open a large window with text and audio detailing the object and the context of its manufacture, an Google map locating its place of discovery, and images of other objects in the collection that are related to the artifact in question. This is definitely a site where one's instant gratification monkey can take control, resulting in an hour or three lost to the pleasure of learning.
Simple Uses?
For history classes an artifact can be used as a hook to build interest in a lesson. For art history the site is more obviously useful. For history or literature classes any object can serve as a quick-write prompt.


Do I Plan To Use It?
Were I to teach Ancient History, as I have for six straight years, I would definitely work this site into the curriculum. It is attractive, easy to navigate, and offers deep dives into pieces of history.
Commitment And Learning Curve
Low. Just have fun exploring.


Best For
MS/HS
Cost
Free. Its Google.


Website
https://britishmuseum.withgoogle.com/