Newsmap
, a simple, fun and informative site, provides a graphical view of the most popular news headlines of the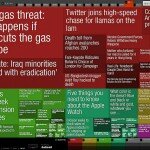 day. It runs out to Google and pulls the data down and displays it in way that is actually easy to read/see. I love it!
Newsmap does not limit itself to just the USA.  It pulls from a variety of countries, English and non English speaking, including Austria, Argentina, Germany and the UK. In addition, the program lets you visualize by category such as business, sports, national news, etc.
It is a wonderful way to see what is viewed as newsworthy in different countries on any given day.
Simple Uses?
Compare news priorities of different countries

Discussion starter for why one story is more popular than another

Discussion starter for how news is created and how headlines are written
Do I Plan To Use It?
I used it a lot when I taught middle school. I can use it with grade five now, but that is about it.
Commitment And Learning Curve
Low and none. Just use it.


Best For
MS/HS
Cost
Free


Website
Newsmap.jp