There are a lot of schools using Words Their Way and a lot of teachers who struggle with the management of the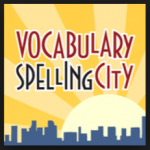 program.
Simple Uses?
As mentioned above this is an excellent way to motivate students to practice their spelling and vocabulary words while still providing you with feedback on their progress.


Do I Plan To Use It?
I am hoping to get my school to purchase a subscription soon!
Commitment And Learning Curve
Low


Best For
ES
Cost
There is a 3 month free trial and after that it is 59.95 for a teacher subscription or you can get a quote from the company through the website for your school.


Website
https://www.spellingcity.com/