If you are a teacher then you are a lifelong learner, and you are always looking for new ways to inspire students, help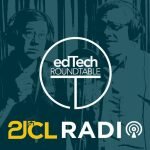 them build confidence, and craft meaningful learning experiences.  Let's face it, we all want to be better tomorrow than we are today. Today, to help us get there, we welcome back our friend, Rushton Hurley, who has travelled all the way to Shanghai to help us all do just that  AND make a special announcement.
Lessons Learned
Dennis – You can do a lot with imagination and construction paper. "Iggy Peck Architect" by Andrea Beaty
Chris – "Even a fish wouldn't get into trouble if it kept its mouth shut."      
-Korean wisdom saying
Daniel – I revisited an application (Apple Compressor) that served only one purpose for me and I spent an hour reviewing all of it's capabilities and it has changed my workflow for about 5 or 6 other tasks.  
Rushton – One can get about five movies in during the flight from California to Shanghai (and why he thinks that's important).
Fun Fact
These 18 incredible products didn't exist 10 years ago
http://www.businessinsider.com/18-tech-products-that-didnt-exist-10-years-ago-2017-7/#1-the-ipad-1
Notes & Links
Special "In-Studio" Guest: Rushton Hurley
Newest Book:  "Making Your Teaching Something Special – 50 Simple Ways to Become a Better Teacher"
https://www.amazon.com/Making-Your-Teaching-Something-Special/dp/194516736X/
Join the Challenge: The Five-Day Teacher Challenge launches on Oct. 16th, and Rushton wants you to give this simple approach to getting better at what you do a try – ideally, with several friends! http://www.rushtonh.com/
Nextvista.org: http://nextvista.org/
NextVista.org English Language Project: http://nextvista.org/projects/elp/