Last year on the podcast we took a look at VR, and you'd think that would be enough because technology never changes, right? Well it's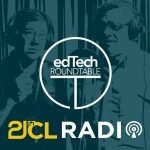 time we took another look because there are some exciting new opportunities and challenges in the world of VR.  Along with a "new lens" to evaluate VR experiences.  The RAT model.
Lessons Learned
Dennis –  Metaverse – Create and Play AR Experiences http://gometa.io
Daniel – How to Properly Archive Video Projects – Managing bloated video libraries in Final Cut Pro X.  
Fun Fact
Apple's Top Ten Emojis – https://www.engadget.com/2017/11/03/apple-tears-of-joy-face-most-used-emoji/
People are really upset about the frowning poop emoji.  New emoji are approved every year by the Unicode Consortium, and this year's batch of 67 proposals includes a sliced bagel, ball of yarn and a llama. But one emoji is proving particularly controversial.
Notes & Links
Sean McHugh's Keynote address at the ACAMIS tech conference in October was all about the RAT (replacement, amplification and Transformation) tech integration model.  If you are not familiar with the RAT model or other tech integration models we have some great resources in the show notes.
The takeaway from Sean's presentation was that the model was much more simpler for teachers to embrace when evaluating their use of technology in the learning environment.
Breaking down AR/VR into the different levels of tech integration we could get a vision for AR/VR's role in education.
Replacement
Having your students listen to your presentation in an AR/VR environment
Amplification
1) Take your students somewhere their school bus can't with Google Expeditions and Discovery VR.
2) Explore a library of VR educational experiences at Unimersiv.
3) Master a foreign language with Learn Immersive.
4) Take a campus tour with Regis University, Design39Campus, or YouVisit.
Transformation
1)3D Digital Art Portfolio
2)VR modeling of home
Resource:
AR/VR through the RAT Model of Technology Integration
Fabulous document with various models posted on researchgate.net
Best of AR/VR Apps for School:
http://www.hackededu.com/2017/08/the-best-of-arvr/
2016 Horizon Report:http://cdn.nmc.org/media/2016-nmc-horizon-report-he-EN.pdf
Paola Paulino-  @paoplayz – Director of Immersive Technology Education at the International School of Nanshan Shenzhen.  Also leads the VRARA China Shenzhen chapter
6 VR Learning Models:  Learning Through…
Instruction (3D Organon

http://store.steampowered.com/app/548010/3D_Organon_VR_Anatomy/

)

Reflection (CoSpaces

https://edu.cospaces.io/Studio

)

Creativity (Google Tilt Brush

https://www.tiltbrush.com/

)

Experience (theBlu

http://store.steampowered.com/app/451520/theBlu/

)

Collaboration (

http://www.keeptalkinggame.com/

)

Design (

https://www.sketchup.com/

)
Source: http://www.digitalrealities.io/infographics#gallery_1-1